Robotics Level 2 (Virtual)
---
Wed, Sep 8, 2021 - Jan 26, 2022
---
Class Experience
Build, code, and learn with LEGO WeDo 2.0 or LEGO Spike Essential Sets! In this class, children will explore the exciting world of robotics and coding in a hands-on, exploratory manner. Your child will develop thinking skills, problem-solving skills, and learn how to collaborate with others to strive to build their best creations!
Notes
To attend the class your child needs:
*LEGO Spike Essential Set or LEGO WeDo 2.0 or
Use can purchase the set directly from the Lego Education website
or amazon.com
**Laptop or tablet.
Classes are being held on Zoom. It's a platform that will allow teachers to talk to the kids and hear kids talking back to her. Also, teachers can use their screen as a whiteboard or show any materials they would like the kids to see. You need to find a good place for the lesson and help your child to set up. Be near if your assistance is needed. And the last detail please ask your child to raise his/her hand to ask questions.
must have previous experience with robotics
Engineering
Coding
Problem Solving
Team building
Creative thinking
Mechanics
Other Things To Know
Cancellations require a 24-hour notice to receive a make-up class.
One make-up per month offered for once-a-week classes
No make-ups are offered for drop-in registration for any reason.
Semester commitment. $100 deposits are non-refundable.
---
How To Participate
Attend class via Zoom video
This class will be hosted on Zoom video conferencing platform. You will receive an email 30 minutes before class starts with a link to the class and access instructions. We recommend you make sure your device is up to date and meets all system requirements before class.
---
LEGO Spike Essential Set or LEGO wedo 2.0 set
Reviews for The Renaissance Child
Based on 82 provider ratings
Loved:
Fun interesting Learning content
Loved:
my son loves the class so far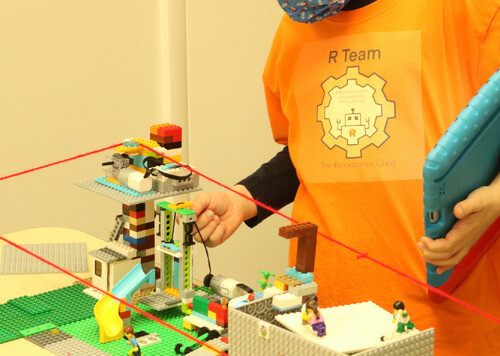 Loved:
Matthew really loves his class. I enjoy seeing the finished product. Ms. Stephanie is very good and patient with the kids.
---
Meet your Instructor
Lisa Greenhut is the head of our LEGO Robotics and Engineering Program. Lisa is a science educator, curriculum developer with 20 years of classroom experience ranging from pre-K students to 7th grade, and a First LEGO League Coach. She received her B.A. from Brown University and M.A. in Elementary and Special Education from Bank Street College. Lisa Greenhut, is a science educator and curriculum developer in the Adventures in Science Program of the American Museum of Natural History.
---
About The Renaissance Child
Montessori Approach | STEAM | Robotics
The Renaissance Child is a home for well-rounded individuals & out-of-the-box thinkers.
Children from ages 1,5 to 12 participate in activity-based classes. The Reggio Emilia-inspired environment features a natural and eco-friendly studio design that creates a peaceful atmosphere where children focus, learn, imagine, and create.
BUILDING A FOUNDATION OF KNOWLEDGE FOR LIFELONG LEARNING
Topics for Robotics Level 2 (Virtual)