Intro to Classical & Flamenco Guitar
---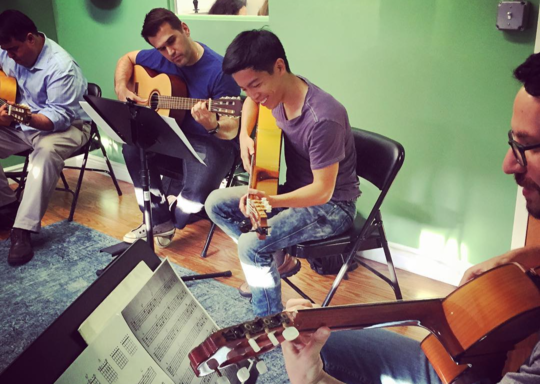 Mon, Jan 3, 2022 - Mar 7, 2022
---
Class Experience
This course is for students that have some experience on guitar but are new to the styles of flamenco guitar and classical guitar. At the end of this class you will know how to properly play 5 right hand techniques: arpeggio, picado, rasgueo, pulgar and golpe. You will learn to play Classical Guitar Etudes and Songs by NYGA's original songs, Tarrega and Calatyud. You will learn to play Flamenco styles such as Rumba, Malagueña and Solea. If you do the recommended practice at the end of the 8 week class you'll be able to play full solo guitar pieces . You will have an opportunity to perform at our student recital. To continue on with more advanced pieces and techniques that include tremolo, and alzapua, please check out our Intermediate level classes.
Notes
This class will be taught via Skype. We use the Skype platform because the chat on Skype does not get deleted after the class call ends. Therefore students can access all the materials and recorded lessons via the chat after any class. Skype is the only platform that offers this option. After you complete registration you will receive a separate email with a link to join the class.
---
How To Participate
You will receive an email 30 minutes before class starts with a link to the class and access instructions.
Reviews for Intro to Classical & Flamenco Guitar
Based on 2 activity ratings
Loved:
I love that we are able to learn a new piece every week. Jason is a wonderful musician, guitarist, and is super professional. He divides class time very well and gives individual attention while keeping the class challenging and at just the right level for everyone. That takes skill!
Improvements:
Can't wait for live lessons
Loved:
Jason's enthusiasm and focus on structured learning was a real highlight for me. His ability to provide individualized attention in a class of three students allowed me to progress very quickly. I was very impressed at how he could identify details of my fingering & strumming technique on video. I'm thrilled that after only four classes there are five songs in my repertoire! I appreciate how each song was designed to teach specific skills that will build on each other as we progress.
Reviews for New York Guitar Academy
Based on 8 provider ratings
Loved:
The instruction and the positive feedback.
Improvements:
This is not an improvement, but more of a suggestion. Perhaps provide a goal at the beginning of a semester of a song that the students will be working towards would be nice.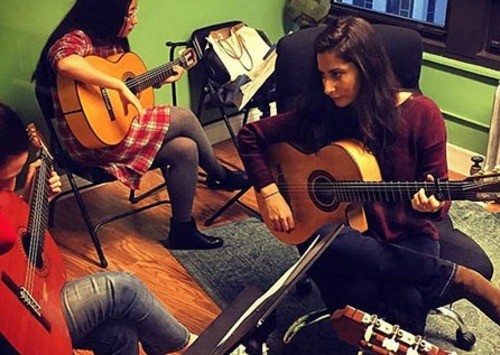 Beginner-to-Intermediate Classical Guitar & Flamenco Guitar
Loved:
I loved learning new styles of playing and the piece selections. I feel I have really been improving as a guitarist.
Improvements:
Not too big a fan of Skype.
---
About New York Guitar Academy
New York Guitar Academy's guitar program offers small group classes and private lessons in a wide range of styles for the acoustic, classical and electric guitar. We offer classes for kids, teens and adults. We introduce students to all different styles of music, allowing them to get a well-rounded sense of the many ways to play the guitar. Students are given opportunities to perform, build repertoire and become a confident guitarist. Philosophy and curriculum designed by graduates from the Music and Music Education department of Columbia University Teachers College.
Topics for Intro to Classical & Flamenco Guitar