Ages 2 - 18+ yrs
Ages 2 - 18+ yrs
The Actors Gymnasium is one of the nation's premiere circus and performing arts training centers. Founded in 1995, Actors Gym is dedicated to expanding human and theatrical potential through the vital forms of circus arts by pushing the limits of physical, emotional, and creative expression.The Gym provides educational programs for students of all ages and levels, produces original and daring circus-theatre, and offers award-winning entertainment for corporate and other special events.Actors Gym is proud to partner with many performing arts organizations throughout Chicagoland and serves as the exclusive provider of circus performing arts training for Lookingglass. At The Actors Gymnasium people learn to fly – physically, emotionally, and creatively.
Upcoming Classes at The Actors Gymnasium
Reviews for The Actors Gymnasium
Based on 180 provider ratings
Loved:
Variety of activities, great instructors, lots of fun and learning new skills.
Improvements:
May be some updates and feedback for the parents/caregivers of how the kids are doing, what activities/ skills they've been learning, etc.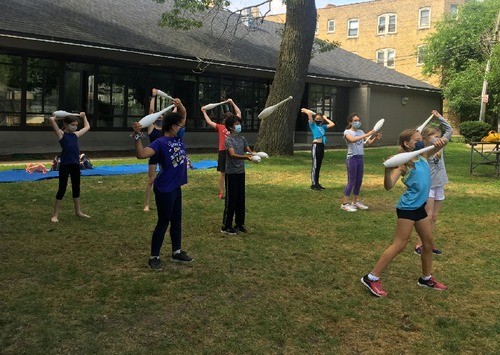 Summer Circus Camp Mini Session
Location: Noyes Cultural Arts Center
| Instructor: Austin Rambo, Julie Matolo, Katie David, Kylie Anderson
Loved:
The instructors are knowledgeable and make the camp fun
Improvements:
Some Counselors tell the kids they need to be picked up at 15 min before camp ends because they need to lock up by 4pm .
Loved:
Learning the different types of circus arts was very fun and engaging.
Improvements:
My daughter states she was injured one day and there was an incident report. This was never relayed to me at all by the camp. Also, the fact that there are performances at the end of camp is a nice idea,but my daughter feels excluded since main parts were given to the more experienced kids. Since half of the camp is devoted to the practice for the performance, this is kind of a bummer.
Loved:
Great staff. Well organized. Fun & challenging for my 13 year old child who is hard to please. She loves it. Very inclusive. Many kids are gender diverse, and unique in their own cool ways. Love how welcoming the camp is to ALL kids.
Loved:
Nikki loves everything!!
Improvements:
Nothing that I know of
The Actors Gymnasium Locations
FAQs about The Actors Gymnasium
What types of activities does The Actors Gymnasium offer?
The Actors Gymnasium provides classes in the following types: Dance, Exercise, Theatre, Acting, Gym, Pod Learning, Performance, Outdoor, Sports, Drama, Ballet, Open Play, Yoga, Martial Arts, Art
What age groups does The Actors Gymnasium serve?
The Actors Gymnasium provides classes for kids ages 2 - 18+ yrs.
What is Sawyer's relationship to The Actors Gymnasium?
The Actors Gymnasium is powered by Sawyer, the easy-to-use business management software powering the best children's activity providers across the country.
Does The Actors Gymnasium offer online classes?
The Actors Gymnasium offers online activities. Please filter by online activities in order to view The Actors Gymnasium's full online class offerings.
Does The Actors Gymnasium offer in-person summer camps?
Check out summer camps from The Actors Gymnasium above! To explore all summer camps on Sawyer, head to our summer camp hub.
Does The Actors Gymnasium offer virtual summer camps?
To explore online summer camps from The Actors Gymnasium, check out their page above. To explore all summer camps on Sawyer, head to our our new summer camp hub.